To our cherished Kaposia Days friends and supporters:
It is with heavy hearts we announce the Kaposia Days Board of Directors has unanimously made the decision to cancel our 2020 Kaposia Days festival in June. Our decision to cancel was not taken lightly; we did so after much research and deliberation. We are confident we have made the appropriate decision for the health and safety of our community. We have been monitoring the situation for several weeks to better understand the spread and ongoing threat of COVID-19 as well as public health conditions that are anticipated for the end of June.
We hope you understand our decision to cancel was in partnership with our city agencies, with sensitivity of community sponsors/businesses and with respect to our many volunteers who help make our festival one of the best around. We know how challenging this has been for all businesses in our community and we need to be considerate of this difficult time for them. Our goal during this time is to focus our efforts on helping our community sponsors & businesses rebuild and re-open even stronger than before. We ask that you continue to support our community and shop locally in this time of need!   ​
Please know we are engaged in discussions about how to create opportunities to involve the community, safely at a distance, while still showcasing Kaposia Days. Details of these opportunities will be coming as discussions continue.
We are extremely proud of the community we represent and understand the disappointment this brings. We deeply appreciate your support and patience as we process this difficult decision and its impacts. While these are challenging times, we look forward to an even stronger Kaposia Day 2021; we encourage you to get involved to help make it happen!
Kaposia Days Board of Directors
2020 Kaposia Button Winner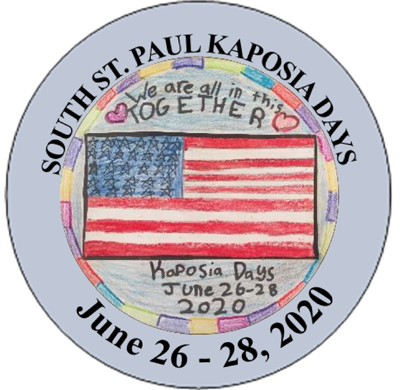 As is the case every year, Kaposia Days button forms went out in January to fourth and fifth graders in South St. Paul and were submitted right before Spring Break. While our community is unable to celebrate together in the traditional sense, the Kaposia Days Board of Directors still voted for a winner and made a button for the community.
Congratulations to our button drawing winner, Katie Bakken!
Katie Bakken is 10 years old. She has lived in SSP her entire life. Katie has 5 older brothers and she lives with her mom and dad. Katie enjoys 3vs3 basketball with her dad and brothers, playing soccer and running track. Katie loves being a Packer and her button design is a reflection of the community spirit she feels is special about her hometown. We are all in this together!
To show your ongoing support of our festival and to add to your Kaposia Days collection, buttons will be sold at the following locations: Kaposia Convenience, Southview 66 and Quick Stop on Thompson Avenue.
Show off your buttons over Kaposia Days weekend during our virtual events!
#KaposiaDays
#InThisTogether
A community celebration provided by the community for the community.
Its primary purpose is to improve the quality of life in South St. Paul by developing a sense of community.
June 26th, 27th and 28th – 2020