2020 Kaposia Button Winner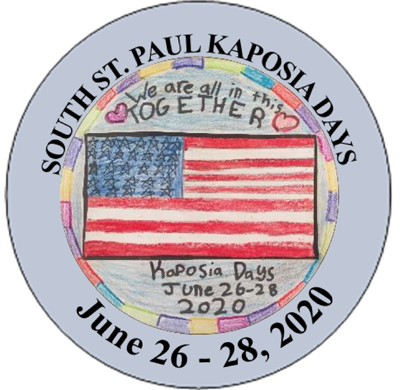 As is the case every year, Kaposia Days button forms went out in January to fourth and fifth graders in South St. Paul and were submitted right before Spring Break. While our community is unable to celebrate together in the traditional sense, the Kaposia Days Board of Directors still voted for a winner and made a button for the community.
Congratulations to our button drawing winner, Katie Bakken!
Katie Bakken is 10 years old. She has lived in SSP her entire life. Katie has 5 older brothers and she lives with her mom and dad. Katie enjoys 3vs3 basketball with her dad and brothers, playing soccer and running track. Katie loves being a Packer and her button design is a reflection of the community spirit she feels is special about her hometown. We are all in this together!
To show your ongoing support of our festival and to add to your Kaposia Days collection, buttons will be sold at the following locations: Kaposia Convenience, Southview 66 and Quick Stop on Thompson Avenue.
Show off your buttons over Kaposia Days weekend during our virtual events!
#KaposiaDays
#InThisTogether
A community celebration provided by the community for the community.
Its primary purpose is to improve the quality of life in South St. Paul by developing a sense of community.
June 25th, 26th and 27th – 2021