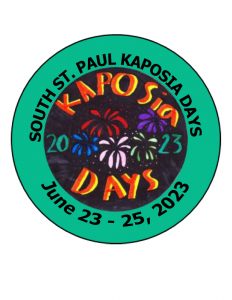 Congratulations to our 2023 button designer, Thomas Laliberte!
Hi, I'm Thomas Laliberte. I'm 10 years old and I'm in 5th grade. I love to draw and make comic books. I also like playing with my friends, playing sports and using my creativity. I can't wait for Kaposia Days weekend and am so excited to be in the parade and share my button design!
Congratulations, Thomas – Happy Kaposia Days!
Button Locations
Buttons are $3 each and can be purchased at local businesses and at select Kaposia Days events.
Purchase your button for $3 at the following locations:
Sam's Tobacco
Holiday Gas Station
Hat Trick Liquors
Wakota Bank
Angelo's
Bremer Bank
Captive Images
Southview 66
Quick Stop
SSP Library
The Coop
Salon Sassé
DQ
Midwest One Bank
South Paw
Central Square