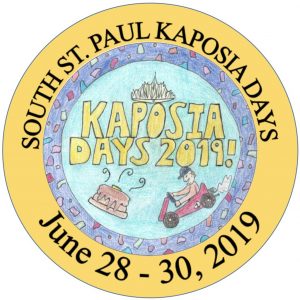 Congratulations to our 2019 Kaposia Days button design winner: Molly Jansen!
Molly Jansen is a fifth grader at Lincoln Center Elementary, and excited to enter sixth grade at the Secondary School next year. She is a Girl Scout and enjoys ice skating, running, reading, math, and of course ART! In her spare time, you often find Molly drawing, making cards for family and friends, writing stories with illustrations, making slime, and practicing figure drawing. She is so excited and honored to have her design chosen for the 2019 Kaposia Days button – she has been attending parades, and pancake breakfasts, and other activities for our annual community festival since she was a baby!
Button Events
Ambassador Coronation
Button Swim
Pancake Breakfast
Block Party
Concord Lanes Friday Night Event
COST – $3.00
The 2019 buttons will be sold at our Breakfast Fundraiser event at Kaposia Club on May 18, 2019, and then available at the following locations through the Kaposia Days weekend.
Button, Button, Who's Got The Buttons!
ABC Rentals
Angelo's
Bremer Bank
Captive Images
Car & Credit Connection
Central Square
Century Car (formerly South City Motors)
Concord Lanes
The Coop
Croatian Hall
Dairy Queen
Dan Grevas Photography
Hat Trick Liquor
Holiday (formerly E Z Stop)
Illetschko's Meats & Smokehouse
Kaposia Club
Kaposia Convenience Center
Level Up Games
M & H Computers
MidwestOne Bank
Quick Stop
Sam's Mini Mart
Sam's Tobacco
Southview 66 Servicenter
T & T Galley
Wakota Federal Credit Union