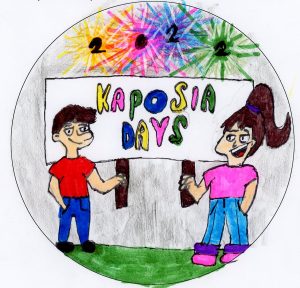 Congratulations to our 2022 button designer, Whitney Sparks!
Whitney is ten years old and a 4th grader at Lincoln Center Elementary. She likes making memories with her family, traveling to new places, hanging out with friends and enjoys being creative. Time creating at her desk has become a routine in her day and a favorite spot in the house. She is the youngest of five siblings by three minutes; that's only possible because she has a twin sister who is her built-in best friend.
Whitney's favorite two things about Kaposia Days are the Grande Parade and the Fireworks. She has ten years of wonderful Kaposia Days memories and can't wait to make more.  She would like to thank the Kaposia Days Board of Directors for volunteering their time to make this weekend of fun happen for the community of South St Paul.
Congratulations Whitney – Happy Kaposia Days!
Button Locations
Purchase your button for $3 at the following locations:
Angelos
Black Sheep Pizza
Bremer Bank
Captive Images
Central Square
The Coop
Croatian Hall
Dairy Queen
Hat Trick Liquors
Holiday (Concord)
Illetschko's Meats & Smokehouse
Lincoln Center
MidWestOne Bank
Quick Stop
Salon Fusion SSP
Salon Sasse
Sam's Mini Mart
Sam's Tobacco
SouthPaw
Southview 66
South St. Paul Library
Wakota Federal Credit Union
Wellness Cafe