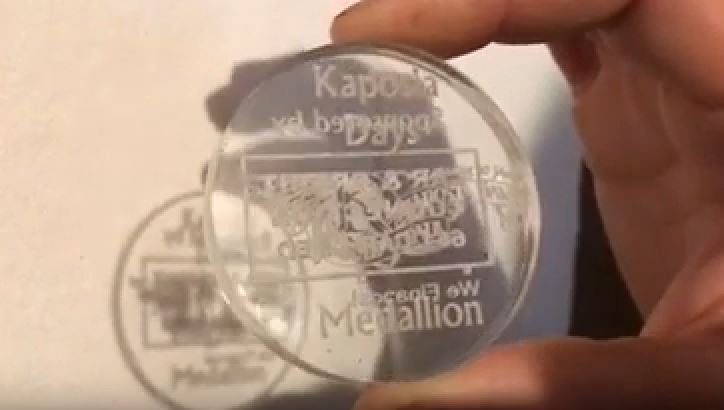 ** The Kaposia Days Medallion Hunt is currently on hold – check back for updates **
Presented by Car and Credit Connection.
The 2019 Kaposia Days Medallion Hunt.
Rules:
There will be 10 clues in all beginning on June 24 and the hunt will end when the medallion is found or at 5:30 p.m. on Friday June 28 if not found.
If the medallion not found by 5:30pm on Friday, June 28, 2019 the prize money will be added to next year's prize.
Car and Credit Connection of South St. Paul will award the finder(s) a $250 prize provided EACH finder has an official 2019 Kaposia Days button. If any of the finder(s) do not have a button, the prize awarded will be $100 and the remainder will be added to next year's prize. The finder(s) will also receive an official "I Found the Kaposia Days Medallion" t-shirt and will be given the option of riding in the parade as the medallion hunt winners.
The medallion will be hidden on public land in the City of South St. Paul.
The City of South St. Paul and Car and Credit Connection of South St. Paul reserve the right to discontinue the treasure hunt at any time if public property is destroyed or people are hunting on private property.
The medallion will not be on or in a body of water, on top of a building, up a tree, on a steep cliff, underground, indoors, inside anything electrical or something that is locked. Be safe. Search, don't destroy.
Payment of the prize is contingent on the immediate return of the medallion. Please follow the directions that are hidden with the medallion to claim your prize. DO NOT WAIT TO NOTIFY US IF YOU FIND THE MEDALLION.
No digging instruments will be needed to find or to assist in finding the medallion. The hunt may be discontinued if people are found using rakes, shovels, or anything else that may damage city property.
Clues will be released starting Monday, June 24 at 10:00 a.m. and 4:00 p.m. ONLINE at www.buyherepayhereminnesota.com under "The Hunt" tab. New clues will be released at 10:00 a.m. and 4:00 p.m. online Monday June 24th through Friday June 28th until the medallion is found.
Immediate family members (spouses, kids, and grandchildren, etc.) of Car and Credit Connection owners and the Kaposia Days board are ineligible to claim the prize and should refrain from participating.
Good luck and happy Kaposia Days!